What to do in Prague during the Summer:
Summer begins in Prague on the 21st of June, but from the very beginning of the month you begin to feel hot temperatures, oftentimes exceeding 30 degrees (Celsius). The four seasons are well marked in Czech Republic, with June through the middle of August bringing summer vibes and heat to the city. A great option to escape to enjoy hot days is to explore the endless amounts of beautiful parks. It seems that every day you can find new activities happening there, including concerts, international food festivals, dance classes and DJ's, all for free! Some of the parks are noted for having gorgeous lagoons, breath-taking views, important historical monuments and, of course, great beer.
easyBNB recommends:
Letná: Famous for the huge metronome (which was once a statue of Stalin), this park is just a short walk from the old quarter. The view from Letná is impressive, and there are many other fun things to do, including:

The Beer Garden: A very popular spot popular with locals, but also increasingly known by tourists, this beer garden has a special multicultural vibe to it. From the garden, you can enjoy the view towards the Vltava river and the charming historical monuments of Prague. It is a great place to go with friends and share some beers, good conversation and delicious street food, while being surrounded by beautiful greenery.

Letná is huge, including places to picnic with friends, several local restaurants, tulip gardens in the spring, and more. It is very common to see people passing by with their dogs as well as people riding bikes or skateboards. If you cross the park, you will come upon the famous Sparta stadium, with an unparalleled view of the Prague castle!

The area around the metronome is a perfect place to go in the afternoon and enjoy the various DJ's who play a mix of Electro, Future house, disco, deep house, Progressive trance, and more. There are also two small bars where you can pay a deposit of 50 CZK to get some plastic cups to use while enjoying the park, returning them when you leave to receive your money back. This space has everything, including tables and chairs to sit and eat, or you can simply sit on the steps of the metronome and enjoy the special atmosphere. At night, it is decorated by little lights that give it a very peculiar touch. There are even public toilets that the municipality built two years ago. Obviously, they have everything that you could need!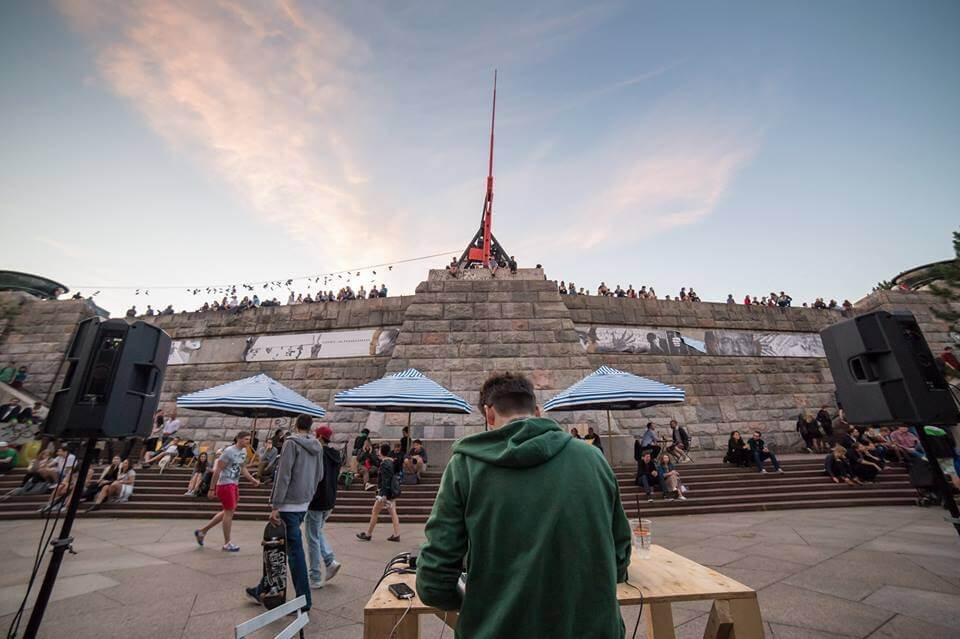 Vyšehrad: is another very popular park in the centre of Prague. There is a Gothic castle, very  famous cemetery where eminent Czech artists rest and other historical monuments. The park is very well maintained yet with ancient spirit, colourful flowers and some modern bistros with options to eat something fresh or typically Czech like sausage with mustard or pickled cheese. I highly recommend bringing your cameras to take some unforgettable photos here. There is a viewpoint where you can admire views over the river and the heart of Prague at the same time. Couples like to wait there for the sunset which is very romantic!

Náplavka: Next to the Dancing house in Jiráskovo Náměstí, you can walk down by the Náplavka River. The special thing about this river is incredible amount of swans, ducks, people practicing kayaking, stand up paddle boarding and passing by on boats. The river is not very wide but it divides the centre of Prague with the area of Smíchov. There are many bridges that overpass the river, connecting these two parts of Prague, which you can walk or take public transport over.
The majority of the boats that are in this river are very popular places to sit and have a beer after work, enjoying the sunset. There are also boats that function as restaurants with great buffets, some very romantic. You can choose between boats with bars, clubs or live music. There is even one hotel boat (botel) and another one with a beach volleyball court! It is a great area to relax, including options to enjoy a spa day.
Having a stroll here is very popular during summer and I assure you that you will enjoy a beautiful sunset or at least a pretty pink sky before it gets dark.
On the weekends, there are food festivals and farmers markets happening, where locals take advantage of buying fresh produce, meat, fish, and other delicacies. Obviously, there are international foods as well, all to be found along this beautiful river walk.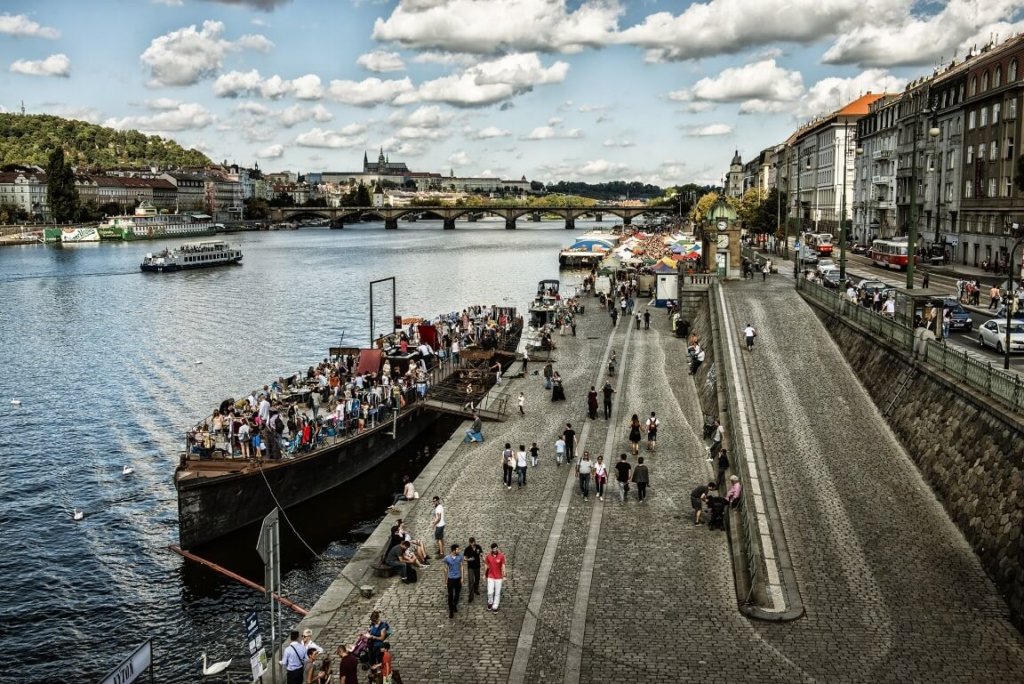 If you are in one of our apartments and want to know more about what to do in Prague do not hesitate to contact us and we will give you all the information you need. In all the places we have mentioned the beer will be present and it would be cool if you can ask for your order in Czech in any restaurant or bar, for example:
Hello how are you? (Ahoj, jak se máš)

One beer, please (jedno pivo, prosím)