Do you own a property that you would like to rent for a short period of time, but do not have the time for it or the necessary know-how? Short-term rental of your apartment, building or villa is a great way to increase your income. In this article, we'll help you get an idea of how much you can earn by short-term rentals and what affects your results.
These 3 key factors in particular will influence your rental price – location, season and type of accommodation. And  this is closely related to the answer to the following question: "Will I make more by long-term or short-term rental?" We will tell you right away.
Location
The rule is simple: attractive location = bigger interest of tourists = higher prices.
Prices vary considerably not only within Czech Republic but also in the capital city itself. The average price per person per night in Prague 1 can be 20 % higher than in the neighboring Prague 2 and 50 % higher than in the more distant Prague 10. A big advantage is if there is an important point or historical building near your apartment (for example Vyšehrad, Congress centre,…)
Short-term rentals pay off in attractive locations – returns can go up to 50 % compared to long term rentals. 
On the contrary, in the tucked-in part of the city which does not attract much foreign guests long term rental will be worthwhile. 
Season
Unlike long-term rental, the price of short-term rental varies every month.
From the landlord's point of view, the best time is New Year's Eve, when prices can be up to 3 times higher than usual and also summer time. Other important indicators are holidays and important events at the place of accommodation. For example, when there is a marathon run, or Ed Sheeran performs in Prague, prices rise rapidly.
The weaker months are mainly in January, February and November. Experienced short-term rental companies are capable of avoiding seasonal income decrease by implementing intelligent occupancy tools and pricing strategies.
Prices need to be continuously monitored on a daily basis and put into statistics to foresee trends and plan adequate actions. For example easyBNB focuses on continuous price tracking and smart optimization to maximise income from every reservation and increase occupancy in managed properties.

(Of course, you can leave the price optimization to us – we'll be happy to help you. Contact us for a free consultation.)
Type of accommodation
The visual aspect of the apartment plays a crucial role in the choice of accommodation. Therefore, make the most of the furnishings and photos. A dark room with shabby furniture does not attract anyone. It pays to invite a professional real estate photographer who has experience in taking apartment pictures. At easyBNB we also work with professional interior designers and photographers who can do wonders with your apartment. We know very well that a good photo can increase the occupancy of the apartment by tens of percent.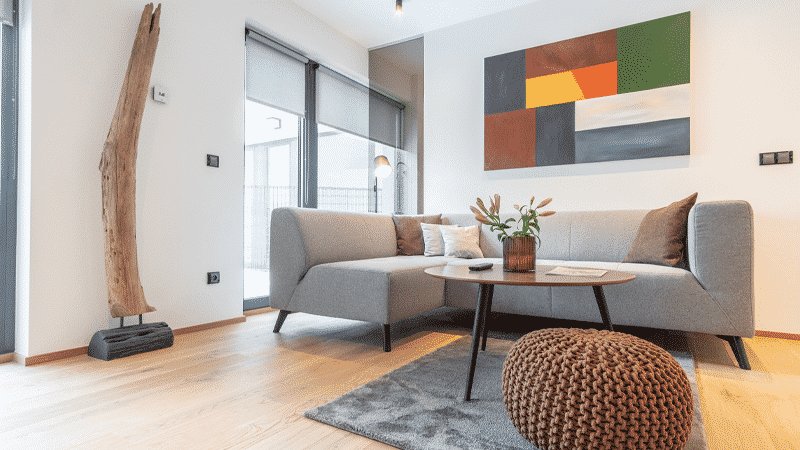 The basis of any successful rent should be mainly cleanliness. Guests also appreciate equipped kitchen. Free WiFi has become one of the essentials. In addition, tourists often do not have data on their mobile, so thanks to the internet "at home" you will make their lives easier.
How to set optimal prices for short-term rental?
Start at lower prices and try to collect as many reviews as possible. Only after getting good ratings and reputation you can even double the price per night. It is also very important to list your property in more channels. If you advertise only on Airbnb your income will be only half of what you could earn by advertising on other channels like Booking.com, TripAdvisor or HomeAway. easyBNB is the only vacation rental company in Prague that can make your property visible on more than 35 global platforms. This enables them to increase occupancy of managed properties and attract premium clientele from USA, Asia, Russia or Europe. 
Earnings minus costs
Payments and costs also play an important role in short-term rental.
Write down a list of everything you can think of. In addition to energy, equipment and fees, think of repairs, cleaning and laundry or just a few broken glasses.
At easyBNB we are happy to advise you on taxes and Airbnb related fees. We watch everything for you and we know about any changes in legislation.
Success will come, just keep up
If you are offering a quality apartment in a desired location, watching your clients' needs and constantly improving what you do, success will come.
However, if you want to make time for other activities and get rid of worries, leave them to us.
We will take care of complete management of your property, ensure a smooth stay of guests, cleanliness, maintenance, city tax payments, price optimization, listing management and much more. Get in touch and we will estimate your income and explain you all 🙂